This week I attended the debut of Sammy Hagar's new lounge The Passage Bar, next to his El Paseo restaurant in downtown Mill Valley.
Cocktails were on the menu where I was able to try the Santorita, Sammy's new favorite made with his own Santo Mezquila.  Here is a short video of us and the preparation.
The first drink Sammy ever made was the Waborita, which featured his Cabo Wabo Tequila and originally developed at the old Avalon Bar in Mill Valley.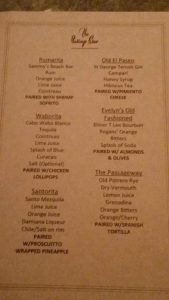 Here is The Passage Bar cocktail menu for your perusing pleasure!