Last year the Presidential Turkey served at the White House was the Nicholas White Turkey, a distinctive fluffy white breed with a bright red head that was developed in Sonoma Valley by George Nicholas at the Nicholas Turkey Breeding Farms in the 1950s.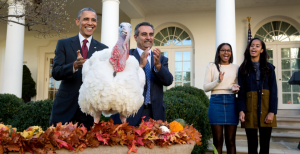 For that occasion, I was honored to be asked to do a special set of Sonoma-based wine pairings with this culinary gem for President Barack Obama and his family, in association with the National Turkey Federation and Foster Farms, which raised this one-of-a-kind bird for the White House to celebrate the company's 75th anniversary.
As is the case with all holiday gatherings, the golden rule for pairings is to choose wines that complement the flavors of the turkey and other tasty dishes being served, instead of overwhelming them.
This year, published in the Valley of the Moon Magazine, are my Holiday Picks for 2016.
May all these wines bring you joy and holiday comfort!
Gloria Ferrer 2013 Blanc de Blancs Brut, Carneros:
Start the festivities off in style with this elegant chardonnay-based sparkling wine with alluring aromas and dazzling flavors of ripe pear, crisp apple, Meyer lemon, roasted nuts, baking spices, and a creamy texture that works wonders with fresh oysters, appetizers, starting courses, and saltier dishes served with turkey. $47
Gundlach Bundschu 2015 Dry Gewurztraminer, Sonoma Coast:
From the oldest family-owned winery in California, this classic Thanksgiving wine features tangy flavors of fresh melon, peach, grapefruit, white pepper, nutmeg and a crisp dry finish. Beyond the turkey, the perky acidity of this wine pairs extremely well with soups, salads, yams and sweet potatoes as well. $25
Westwood 2014 Estate Pinot Noir, Annadel Gap Vineyard, Sonoma County:
Crafted with pristine fruit grown on the northern edge of Sonoma Valley, this expressive new pinot noir is layered with elegant notes of ripe berries, cherry cola, vanilla, cinnamon, and silky texture. Try this pinot noir with fine cheeses, cranberries, wild mushrooms and all the fixings on the dinner table or delicious sandwiches the day after. $44
Ravenswood 2013 Red Blend, Pickberry Vineyards, Sonoma Mountain:
Celebrating their 40-year anniversary, winemaker emeritus Joel Peterson and the team at Ravenswood Winery have earned an international reputation as elite producers of zinfandel-based wines. But at the winery on Gericke Road in Sonoma, you can try other special releases, like the Pickberry Vineyards Red Blend, an intermingling of merlot and cabernet sauvignon, highlighted by generous flavors of ripe berries, dark plum, currants, wild herbs, and layers of spice. Rich, smooth and supple, the texture of this wine is a great complement to grilled vegetables, turkey, ham, and richer dishes served during the holidays. $50
Little Vineyards 2013 Syrah, Estate Grown, Sonoma Valley:
Syrah can provide that touch of spice to each course served during the holidays. A Gold winner at the Sonoma County Harvest Fair
in September, the Little Vineyards 2013 syrah features deep and rich notes of boysenberry, blackberry, lavender, licorice, vanilla, allspice, toasty oak and a persistent finish. Try this nicely balanced wine with tangy sauces, fresh herbs and savory dishes served with the turkey or red meats. $38