Seeing as how Father's Day represents the last day of spring and the initiation into summer this year, I thought it would be fun to run a smaller version of an article I wrote for Napa Sonoma Magazine that focused on power duos in the wine industry.  I was reminded about this cool set of articles when I was enjoying a magnificent dinner with Joel Peterson this past Saturday night commemorating the 40-year anniversary of Ravenswood Winery and when I attended the special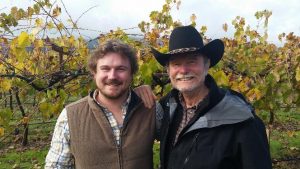 Auction Napa Valley dinner at Grgich Hills Winery to celebrate the 40-year anniversary of the Paris Tasting and the fabulous wines Mike Grgich has made after he crafted the famous Chateau Montelena 1973 Chardonnay.  I can't wait to spend another fun Father's Day with my wife and our boy Rupert, who happens to turn 7 on Monday (a.k.a. Summer Solstice)!  In the meantime, Happy Father's Day 2016 to all the great followers of SawyerSomm!
As a side note: Make sure to follow me on FB, Instagram, and Twitter for all the cool seminars and events I'll be leading at the Telluride Wine Festival beginning June 23! -CS
Joel Peterson and Morgan Twain Peterson
From the moment he started Ravenswood Winery in Sonoma County in 1976, Joel Peterson has spent the last four decades educating wine consumers, connoisseurs, retailers and sommeliers about the virtues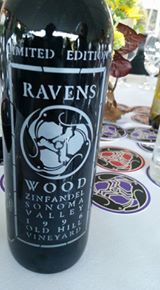 of making flavorful wines with Zinfandel, California's official "sweetheart grape." So it makes sense that when Joel's son Morgan Twain Peterson was born in 1983, wine was already part of his DNA.  Inspired by early visits to the vineyards and winery with his father; Morgan made his first barrel of wine with fruit he procured from local farmer Angelo Sangiacomo at the age of three in 1986. After making multiple vintages of the Vino Bambino Pinot Noir through 2001, Morgan further honed his skills by working as a wine buyer in New York while completing undergraduate studies at Vassar and graduate school at Columbia University.  During this period, he also got to work with star sommeliers at top restaurants, including Craft, Gramercy Tavern, Aureole and Mesa Grill, who also added some of the remaining bottles of the Vino Bambino to their wine lists.  Upon returning home from finishing winemaking internships in New Zealand and France, Morgan started Bedrock Wine Co in Sonoma Valley in 2007, a boutique wine brand focused on working with old vine Zinfandel, Syrah, and other unique grape varieties.  In hindsight, Joel says Morgan's childhood traits still remain. "He's very similar to the same kid he was when he was five years old. Back then he liked to explore and had a special sense of determination and a little stubbornness that have ultimately paid off in the complex flavors in the wines he makes."
Open Daily. Ravenswood Winery 18701 Gehricke Road, Sonoma, (888) 669.4679, www.RavenswoodWinery.com  /  Bedrock Wine Co. is not open for visits. (707) 343.1478, www.BedrockWineCo.com.
Michelle Whetstone and Jamey Whetstone
The son of a southern Baptist preacher, Jamey Whetstone moved to Napa Valley in 1996 with the intent of mastering food and wine skills so he could use to start a restaurant in Charleston, North Carolina. But his plan changed when he began working with fine wines and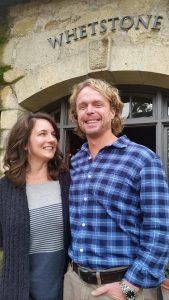 serving high profile people in the wine industry at Mustard's in Yountville. One of his mentors was Larry Turley, who hired him away from Mustard's to work at Turley Wine Cellars in 1998. While polishing his skills by working with gifted winemaker Ehren Jordan at the winery and a season spent at Domaine Dujac in Burgundy; he started his own Whetstone brand in 2002.  When he met his future wife Michelle, a Napa native, he left Turley in 2005 to launch a new phase of his career as a wine consultant. While Jamey made the delicious Chardonnays, Pinot Noirs and Syrahs for Whetstone and their second label called Manifesto, Michelle spent the next few years searched for a building to sell the wines retail. At the same time, both were doing parental duties to raise their four fabulous kids. In the end, what she found was the magnificent 19th Century, French-style Chateau on Atlas Peak Road designed by famous Napa Valley architect Hamden W. McIntyre, which far exceeded their greatest expectations. "For me, I just feel fortunate that I've been with very gracious people who have really given Michelle and I a toe-hold to establish a special winery here in the valley, but also inspired us to fantasize about retiring in our early 90s," says Jamey, with a grin.
Open Daily. Whetstone Wine Cellars 1075 Atlas Peak Road, Napa, (707) 254.0600, www.WhetstoneWineCellars.com.
Mike Grgich and Violet Grgich
If music makes the world go around, then Miljenko "Mike" and Violet Grgich of Grgich Hills Estate have done their best to keep the spirit alive.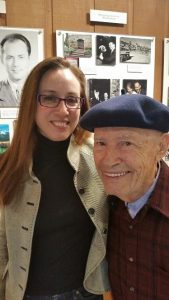 After Violet was born in 1965, Mike spent the next decade crafting some of America's most legendary wines, including the Robert Mondavi 1969 Cabernet Sauvignon, which won the top award at the San Diego Tasting, and the Chateau Montelena 1973 Chardonnay which won over the highly-touted French wines at the Paris Tasting in 1976.
"He was always humble about his accomplishments and I didn't really have any idea that he was such a famous winemaker," says Violet, in retrospect. "To me, he loved what he did and he tried to pass these traits on to me as well."
It was also during this period that Violet developed an appreciation for music. Mike brought this family tradition with him when he emigrated from Croatia in 1958. As the years passed, she learned to play the piano, accordion, flute, and specialized in the harpsichord while attending college at University of California Davis and receiving her Master of Music degree at Indiana University.
"Music was always part of our house," says Violet, who is now the Vice President of Operations and Sales at the winery. "Most Croatians will sing at the drop of a hat in harmony. So I've always loved music."
Open Daily. Grgich Hills Estate 1829 St. Helena Highway, St. Helena, (707) 963.2784, www.Grgich.com.
Andy Katz and Jesse Katz
When you consider that they have visited over seventy countries together, it's hard to dispute that professional photographer Andy Katz and his son, winemaker Jesse Katz, are great travel partners.
"He's with me whenever I can grab him," says Andy, who began his career as a photographer of wineries and vineyards when he worked with Robert Mondavi, Domaine Chandon, Iron Horse and Jordan wineries in the 1980s and 1990s.
The colorful photos from many of these adventures over the past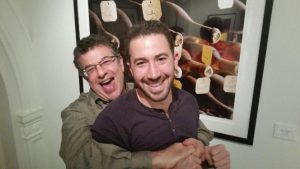 three decades can be seen in glossy table books, museums and galleries, including Andy's personal studio on Healdsburg Plaza.
On a personal level, one of the most notable journeys was the duo's trip to France for "The Heart of Burgundy" project, a coffee table book Andy did with Robert Parker. During their stay at Domaine Leflaive, Jesse developed a deeper understanding of the unique qualities of the French landscape, vineyards, varietals, and finished wines. The impact of the trip carried on to college, where Jesse decided to change from studying business at University of California, Santa Barbara, in order to transfer to Fresno State University, where he received his degree in Viticulture and Enology.
After developing his winemaking skills in Argentina, Patagonia, Santa Barbara County and Screaming Eagle in Napa Valley; Jesse became one of the youngest head winemakers when he was hired at Lancaster Winery in Alexander Valley at the ripe age of 25 years old.
On the side, the Katz family makes two distinctive wines in Sonoma County. The first is a decadent Malbec called Devil Proof. The second is a complex single vineyard Cabernet Sauvignon called Aperture. "Like the tiny details in dad's photos, we put our heart and soul into each wine we make," says Jesse.
Open by appointment. Andy Katz Photography 322 Healdsburg Avenue, Healdsburg, (707) 280.5555, www.AndyKatzPhotography.com.  /  www.DevilProofVineyards.com.