A little history lesson for you, before Cabernet Sauvignon became the most popular grape in the Napa Valley, most of the full-bodied red wines were made with Zinfandel, Petite Sirah, Charbono and other legendary grape varietals referred to as "mixed blacks."  Come find out what an all-star cast of Napa Valley farmers, winemakers, vintners and boutique producers are doing to preserve these special old vineyard sites.
Preservation Society
The Rudd Center at The Culinary Institute
of America Greystone, St. Helena
Friday, March 18 / 3:00pm – 4:30pm
Get your tickets!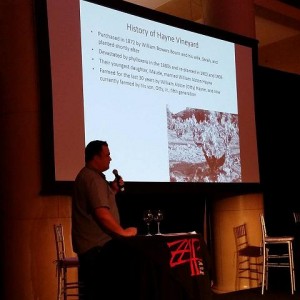 I'm honored to be the moderator for this Flavor! Napa Valley class, alongside this amazing panel of professionals; Robert Biale, Proprietor, Robert Biale Winery: Aldo's Vineyard, Tegan Passalacqua, Winemaker, Turley Wine Cellars: Hayne Vineyard,  Mike Hendry, Proprietor, Hendry Winery: R.W. Moore Vineyard,  Russell Bevan, Winemaker, Chase Cellars: Hayne Vineyard, Genevieve Janssens, Winemaker, Robert Mondavi Winery: To Kalon Vineyard.