Pairing wines with food is a noble duty. This is particularly true on the Fourth of July, a classic American holiday when fireworks and barbequed foods reign supreme and the choice of tasty wine can enhance the meal that much more.
To many, it's as simple as serving hamburgers and hot dogs with their favorite bottles of Chardonnay or Merlot. But for those of you looking for a little more adventure, there are plenty of new ways of matching tasty comfort foods with bright, playful and expressive wines. For that reason, I thought it would be fun to update the holiday article I wrote a few years ago for Rebel Mom .  So here is the first of my four picks leading up to Independence Day 2014…
Grilled Chicken and Vegetables with Edna Valley Vineyards Sauvignon Blanc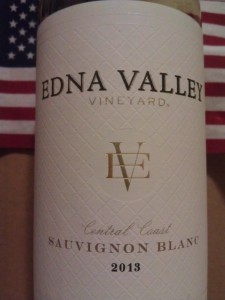 Known for its fresh aromatics, fruity flavors, zippy acidity and crisp finish, white wines made with Sauvignon Blanc grapes can offer a refreshing alternative to the buttery styles of Chardonnay in the summertime. A great example of this style is the Edna Valley Vineyard 2013 Sauvignon Blanc, Central Coast ($15). This bright new release features fragrant aromas of citrus blossom, grapefruit and fresh cut grass; bright flavors of ripe melon, papaya, lime and gooseberry; and a crisp, refreshing finish.
Besides pairing nicely with grilled chicken marinated in white wine, herbs and citrus, the vibrant acidity of the wine also works great with grilled asparagus, squash, onions and other veggies that are often difficult to pair with, as well as handling the heat in spicy dishes as well. For a fun July 4th pairing with the Edna Valley Vineyards 2013 Sauvignon Blanc, check out Chef Mark Murphy's fantastic recipe for Grilled Corn on the Cob with Chili-Lime Butter and Cojita Cheese.  Yummy, easy to make, and a perfect pairing with a fresh wine poured from a screwcap bottle. Oh, behave!