For the first year, Gloria Ferrer and Top Chef star, Brooke Williamson, have teamed up and are on a mission to discover the most glorious appetizer recipe in the country at the Glorious Bites Appetizer Challenge.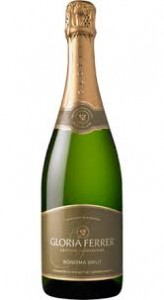 All appetizers will be judged by Williamson and an expert panel on originality, perceived taste appeal and perceived ability to pair with the Gloria Ferrer Sonoma Brut. In addition to Williamson, final event judging panelists will include: myself, Christopher Sawyer, founder of SawyerSomm.com, Sondra Bernstein, Proprietor of the girl & the fig and ESTATE in Sonoma & the fig café & winebar in Glen Ellen, CA, and Steven Urberg, Winemaker for Gloria Ferrer. The cook-off will be emceed by award-winning author, speaker, wine consultant, and television host Leslie Sbrocco.
The regional finalists will participate in a live cook-off on Saturday October 10th, 11am to 2pm, that will culminate at the National Finals at Gloria Ferrer Caves & Vineyards in Sonoma, CA.
Get your tickets to attend the "Glorious Bites Challenge" Finals now!