Like chefs, winemakers enjoy interesting hobbies away from work. Marc Mondavi's started with a girl he dated in high school, whose father taught him how to find water underground with something called the divining rod.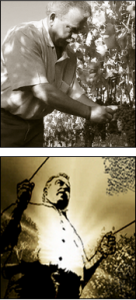 Simple and efficient, the divining rod is a set of sticks that cross due to the power of kinetic energy when water is sensed below the surface of the soil. Also called water divining, water witching or dowsing, the origins of the craft are as mysterious as the practice itself. Written records of divining can easily be traced back to 14th century Germany, but even earlier mentions have been found dating back to the 5th century B.C. But, when done correctly, it works!
Marc uses his skills to find underground water sources for other wineries and land developers in Napa Valley and other parts of Northern California. "My goal is to aim high, talk low," he says.
In addition to overseeing the vineyards farmed for his family's Charles Krug and CK Mondavi wine brands, Marc started his own brand a few years ago, appropriately named The Divining Rod.
The latest release is The Divining Rod 2011 Cabernet Sauvignon, Alexander Valley ($18). Made with 89% Cabernet Sauvignon and smaller amounts of Petit Verdot, Cabernet Franc, Malbec and Merlot, the wine features alluring aromas of ripe dark berries, earth, sandalwood, tobacco and spice. Flavors are generous with notes of blackberry, black cherry, plum, cola, wild sage, vanilla and cedar; silky texture; and a long, dry finish.
"Some call the divining rods voodoo science or hocus-pocus," says Marc, who earned the nickname "Water Witch" from his friends. "I call them our way of making divine wines with character, quality and a true sense of earth and water below the surface that helps us produce healthy vines and grapes with unique qualities and flavors."

Click the book on the left to read Marc Mondavi's children's book "The Witch, the Water & the Wine" and learn about Marc Mondavi growing up as a water witch in the Napa Valley!
For more information about the The Divining Rod wines, visit www.thediviningrod.com. These wines and other brands from Charles Krug portfolio will be featured in the Artisan Series at Food Network IN Concert.